SEPP April Fools Award Announcement:

Video of the event

During the month of April, the Science and Environmental Policy Project (SEPP) conducted a special international poll. Thousands were asked to nominate a government official or political leader, who, in the determination of a special SEPP panel is the most deserving. The criteria are as follows:


The official has advanced, or proposes to advance, significant expansion of governmental power, regulation, or control over the public or significant sections of the general economy.
The official does so by declaring such measures are necessary to protect public health, welfare, or the environment.
The official declared that physical science supports such measures.
The physical science supporting the measures is flimsy at best, and possibly non-existent.
SEPP received 12 nominees representing 5 different nations plus the State of California. There was no need for a meeting of the special SEPP panel because the Public Choice was overwhelming.

The distinguished recipient of the First Annual SEPP April Fools Award is none other the America's own EPA Administrator, Lisa Jackson. In her honor SEPP had this special trophy prepared. Henceforth, this distinguished lump of coal will be known as the Lisa Jackson Trophy, or, simply, THE JACKSON.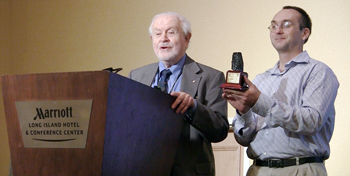 Accompanied by Jeremy Snavely, Fred Singer announces the SEPP April Fools award at the Annual Conference of the Doctors of Disaster Preparedness, Uniondale, NY, July 29, 2012.

Video of the event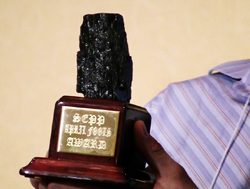 THE JACKSON